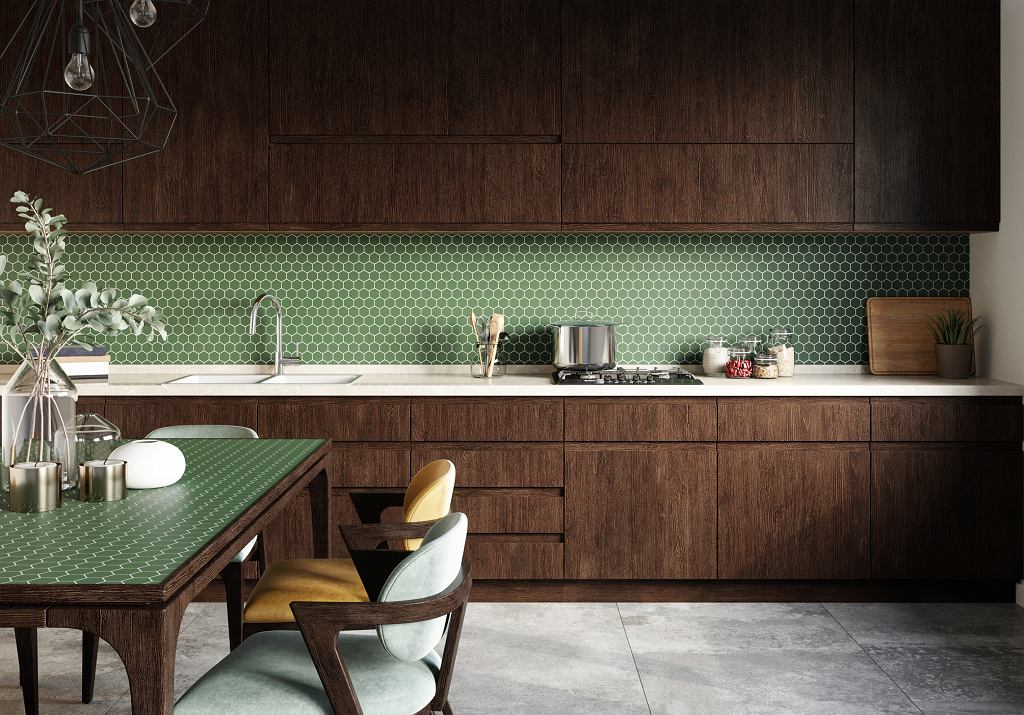 Timeless forms inspired by nature and geometry rarely go out of fashion. They may disappear from the latest catalogues for a while, but their proponents quickly make the motifs reappear in the most popular and sought-after proposals – then they win the hearts of everyone once again. Hexagons are exactly that. These hexagonal tiles have become a permanent fixture in interior design.
Hexagons for everyone – beauty and elegance
The popularity of hexagonal tiles does not come from anywhere. There are two factors that contribute to their popularity: their inspiration from nature and their geometric, ideal look. Hexagonal tiles have been present in nature for centuries, ever since industrious bees started building their honeycombs. It is from hexagons that the combs are laid. Their ideal form allows for maximum use of space – this is confirmed by mathematicians and scientists. No other geometric figure is able to make such good use of the available space while consuming little material at the same time. Hexagons, therefore, combine natural beauty with geometric functionality. They are used in various rooms. In kitchens, bathrooms, entire floors and walls are laid with them. In the living room or bedrooms, hexagons are usually added as details, delicate, decorative accents.
How to choose hexagonal tiles for your kitchen?
Hexagons are unique tiles, which with their colour and pattern can imitate interesting materials. Natural wood, stone, marble, travertine, concrete or the power of avant-garde patterns – all these can be imitated by ceramic tiles, and therefore by hexagonal tiles. When choosing tiles, we also have the possibility of selecting the format of hexagons. Hexagonal tiles can be placed both on the wall and on the floor. When choosing hexagonal tiles for your kitchen, pay special attention to their parameters. High abrasion and stain resistance class is important for tiles in the kitchen – something often spills in the kitchen and tiles must withstand frequent cleaning. It is worth investing in a durable and resistant material. If you want to lay hexagons next to the cooker or oven, the material should be resistant to high temperatures. For the kitchen floor, as well as for the bathroom, let's put hexagons with anti-slip properties.
Where to use hexagons in the kitchen?
We can lay hexagons in the kitchen on the entire floor, all walls or one selected wall, or we can make them into an interesting and original architectural detail. Inspirations for the use of hexagons are common and we will have no problem finding something interesting for our interior.
Innovative flooring
The floor in the kitchen and hexagons on it in an aesthetic and intriguing way can delineate the cooking zone and the dining zone. Perfect for living rooms with a kitchenette – hexagons draw a line where the kitchen is and where the living room is. Well-matched hexagons and floor panels, laid by a professional who is well versed in proper trimming, will blend well and look extremely attractive.
Fashionable wall
Wall arrangements can be either full or partial hexagons. Most often hexagons are used to finish the space between the kitchen worktop and wall cabinets. This type of arrangement will give the kitchen an elegant look. We can opt for bright, solid hexagons or for tiles with interesting patterns.
Not just tiles and not just for the wall – appliances and equipment in trendy hexagons
Hexagons are added to various interiors not only in the form of tiles. There are also inspirations, which assume the use of hexagon for furniture or appliances. Shelves with hexagonal elements are popular. Single hexagons can be combined into larger patterns. This solution will be perfect both for the bedroom and for the bathroom or living room. Sinks, washbasins, taps and bathtubs with hexagonal shapes are perfect for kitchen interiors or bathrooms. They work great for modern homes and bring an interesting wow effect to the interior. The living room and bedroom can also be interestingly decorated with hexagonal textiles. Patchwork-style blankets and throws, where hexagonal pieces of fabric are sewn together, are popular. Their colour and pattern can be really varied. Perfect for rustic or boho style settings.