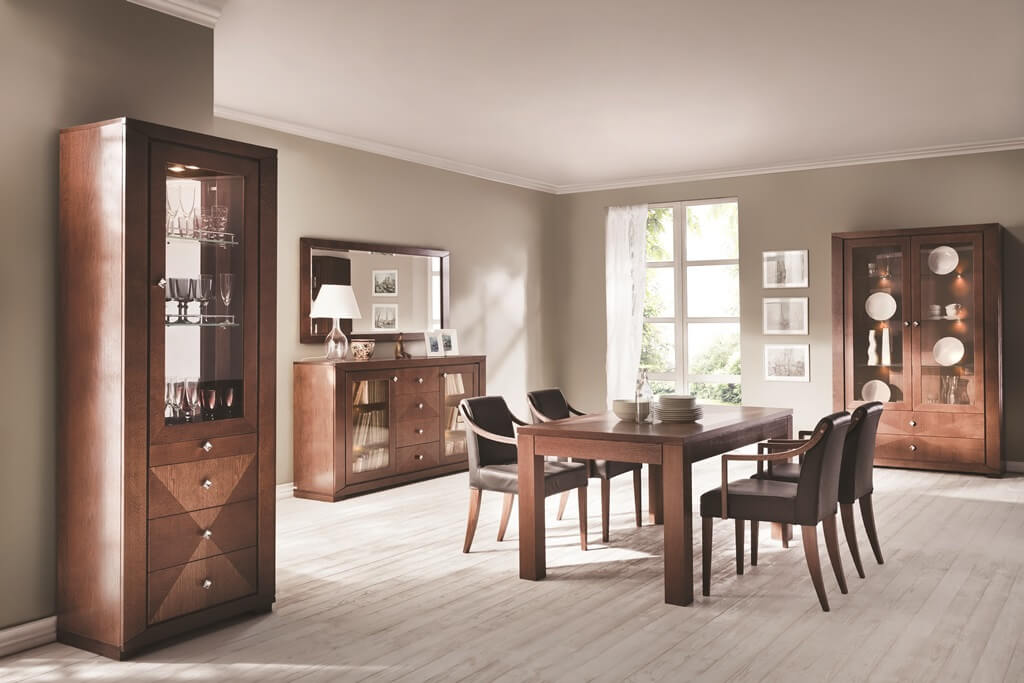 A table and chairs are undoubtedly the most important pieces of furniture in our homes. Their importance is evidenced by the fact that they frequently appear in the works of artists. Tables are often the setting of the most prominent novels or films. Tables also appear in paintings. Therefore, it is safe to call them period furniture. Properly chosen, they will become the cradle of social and family life. What should you consider when choosing a table and chairs? Why not rely solely on fashion? You will find answers to these and other questions in the following paragraphs.
What should a table be made of?
An ideal table is a comfortable table. This rule also applies to chairs. Therefore, when choosing these pieces of furniture you cannot rely solely on style and fashion. It is most important that they are comfortable and solid. This will make both family members and guests want to spend long hours at the table. As life is very busy around it, the material of the table is a key issue. The number one in this category remains, of course, wooden tables. Properly protected, the natural raw material will be a companion for everyday dinners and lavish festive feasts for many years. Most tables are made of oak, beech or alder wood. Their advantage is, on the one hand, a very elegant look and a great fit into any arrangement, and on the other hand – durability and resistance to damage. For this reason, wooden tables are very often in families for many years and sometimes passed from generation to generation.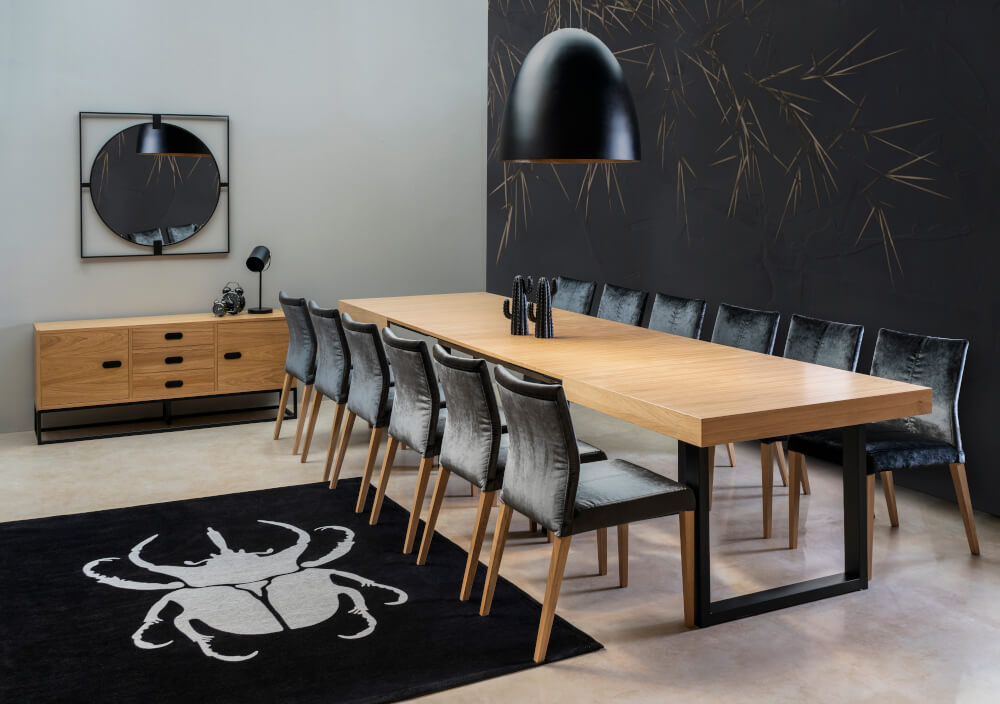 What dimensions does a comfortable table need to have?
The table should provide maximum comfort for all the guests. When choosing a specific model, pay attention to its dimensions. The most optimum height of the piece of furniture, ensuring comfort to both short and tall persons, is 75 cm. It's also worth ensuring that each person sitting at the table has around 60 cm of width and 40 cm of tabletop depth at their own disposal. The dimensions of the table go hand in hand with its shape. You can choose between rectangular and oval tables. The first ones, although they definitely prefer large spaces, have an unquestionable advantage – they can be placed against a wall every day and thus save space. Oval tables work well in smaller rooms. They do not overwhelm the arrangement and allow you to accommodate more guests. In addition, all the people sitting at the table can see each other. In other words – there are no better or worse seats at oval tables. In turn, folding tables are irreplaceable for small spaces, including flats in blocks of flats. They are compact, so they don't take up much space. And when the need arises, they can significantly increase their dimensions.
Which chairs to choose from – wooden or plastic?
Chairs are an indispensable part of the table. While the former allows you to set treats for household members and guests, a comfortable chair directly ensures the comfort of each person sitting on it. Since this is a piece of furniture that constantly carries a lot of weight, it needs to be sturdy. Ideally, the chair's frame should be made of durable wood – oak or beech – or steel. Thanks to this, the furniture is stable and can impress with its comfort for many years. The seat is also important. It can be made of wood or plastic, upholstered or not. While the latter is better suited to kitchens, where there is a high risk of the seat and backrest getting dirty while preparing meals, upholstered chairs are indispensable in living rooms or dining rooms. A soft spring seat or one filled with springy polyurethane foam ensures maximum comfort even during late meetings.

What dimensions does a chair need to have to ensure sitting comfort?
However, for a chair to be a comfortable piece of furniture, it must also have the right dimensions. A general rule is that a person sitting at a table should have the top at rib height. Therefore, it is best to buy a table with chairs – then you can be sure that the furniture fits together in terms of dimensions. If, on the other hand, the chairs are bought separately, it is worth trying to optimally adjust their height to the table. In standard models, the seat is situated at a height of 40 to 45 cm and its width varies between 38 and 42 cm. Chairs with armrests can be slightly wider. Seat depth is also important. It usually ranges from 38 to 40 cm, which allows even shorter people to sit comfortably and rest their feet on the floor.
Table and chairs – models that work well in modern interiors
Comfort is the most important factor to consider when it comes to tables and chairs. But not the only one. The design of the furniture also matters. It should be consistent with the remaining elements of the interior and correspond well with the arrangement. In modern spaces minimalist tables with a simple, clean formwork perfectly. They can be made of light or dark wood. They go well with ergonomic chairs upholstered in fabric or natural leather. It is worth choosing models without armrests, which will reflect the modernist, slightly austere character of the space. Tables with glass tops are also a good option, ideally suited to bright, modern arrangements. Tables on a metal frame have become very popular in recent years. A wooden top supported on skids made of steel not only meets the expectations of modernist interiors but also perfectly matches the industrial style. It harmonises effectively with the post-production accents present in the space, as well as with fashionable architectural concrete, exposed brick or lamps in cage type shades. Metal tables can be easily matched with chairs maintained in the same style, thus creating an original corner for common dinners, conversations and games. In the latter case, multifunctional tables with a billiard function will be perfect, allowing in a few moments to transform an ordinary living room into a room in which an exciting duel takes place.
Tables and chairs for lovers of timeless classics
Scandinavian, classic or rustic arrangements also require matching tables and chairs. In all three cases, wooden tables are definitely the best option. You may be tempted to choose both rectangular and oval models. Interiors decorated like those in the far north are most favoured by tables on tapered legs, to which both traditional chairs and models supported by tripod legs will fit. Just remember to choose light colours for wood and upholstery, as such colours are a characteristic feature of Scandinavian style. Classic, timeless wood tables are also a great option for traditional arrangements, where wall units, armchairs and chairs with armrests have had a second life. The colour of the wood does not play the primary role in this case. It can be matched with other elements of the arrangement or create a contrasting accent in the interior. Massive wooden tables also work well in rustic spaces. Surrounded by soft chairs resembling miniature armchairs, they will perfectly convey the warm and cosy character of the interior.
A table with chairs is the heart of every home. It's the place where the household meets every day and the corner where meetings with long-lost friends or family members take place. And it doesn't really matter what the design of the furniture is. The most important thing is that it's made of solid materials that will last just as long as the bond that binds the people sitting around the table.