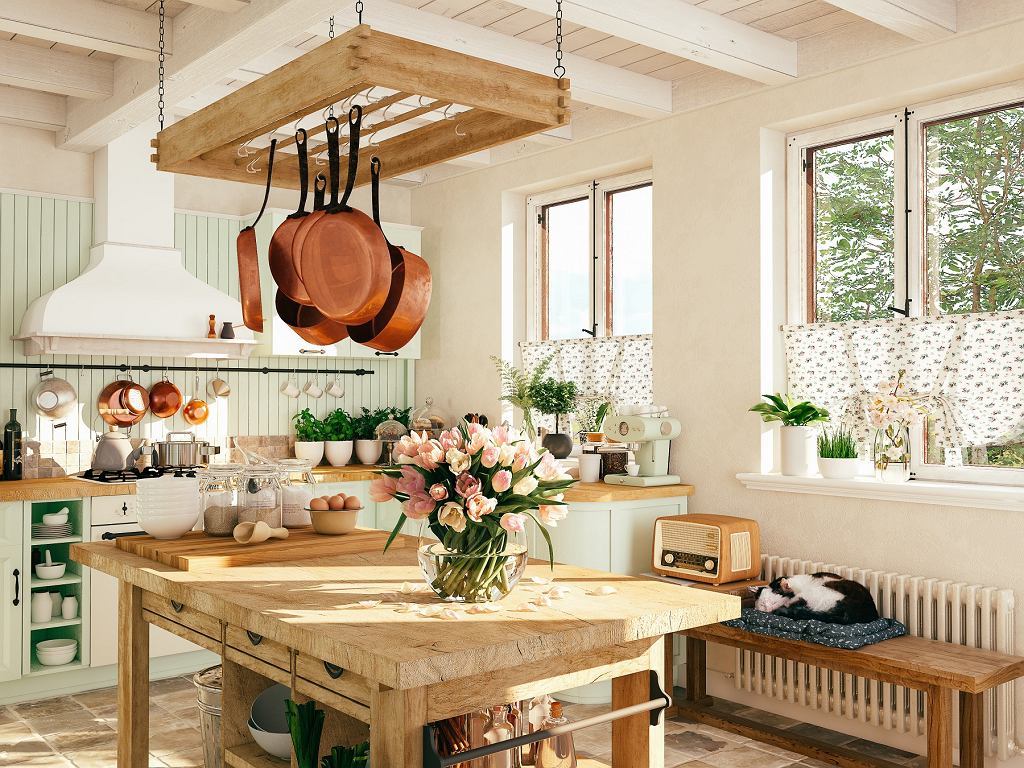 Rustic style means natural materials, simplicity and a homely atmosphere. Arrangements referring to a country cottage have a unique charm, which makes time standstill. Do you want to decorate your interior in a rustic style? Use our hints – we have selected matching furniture and accessories.
Holidays spent in the countryside leave you with special memories. Even if we have never experienced them – they are certainly associated with carefree carelessness full of adventure. When decorating our interiors, we like to introduce accents that remind us of our favourite places – so why not evoke the atmosphere of that special time in our flat design? And if we don't have such memories – the rustic style will surely make us feel as if we had them.
Rustic style – what is it
Our grandparents' houses, especially those located in the countryside, have rarely survived to this day in an unchanged form. Over the years, they were subjected to successive renovations, which usually included the replacement of the interior furnishings, which is why there are so few original country cottages today. However, we willingly draw on this old-style in interior design, calling it rustic style.
How to decorate your home in a rustic style
Features of rustic style:
natural materials – old or stylized wood furniture, can be whitewashed, rubbed or leached; stone or wooden flooring
simple decorations – dishes made of clay or metal, wooden figurines, wrought iron details; it is also worth trying to find objects with a soul, such as old iron, cuckoo clock, oil lamp or sewing machine
colours – light, natural colours which will go well with wood – white, cream, beige, brown is also acceptable
fabrics – wool, linen, cotton
Folk accents – not necessary, but always welcome – openwork doilies, tapestries on the walls and textiles with folk patterns.
How to decorate a living room in a rustic style
The living room should be an oasis of peace, which will soothe your nerves after a busy day. The rustic style will work perfectly here – it will help create a warm, cosy interior with a touch of sentimentality to the past. The raw beauty of natural materials will bring a specific kind of elegance to the arrangement, even if time has left its mark on them.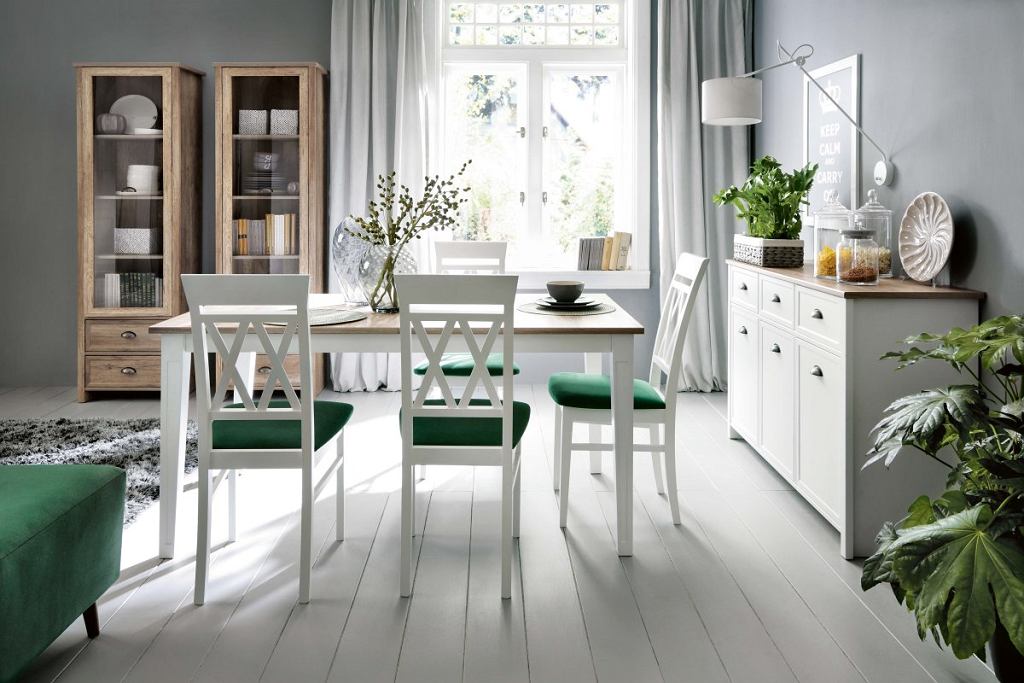 How to arrange a living room in a rustic style? Such interior should be devoid of glitter and fancy decorations. Soft, comfortable lounge furniture should be accompanied by furniture made of solid wood. Tables and tables can be covered with linen tablecloths or openwork doilies made on crochets. It's worth taking care of the flowers – but if you like cut flowers in vases, let them be field flowers rather than elegant bouquets of roses. The previously mentioned additions will be appropriate here even if you have a flat in a block of flats and not a stylised cottage. DIY enthusiasts may even be tempted to make a table on the basis of a certain extremely popular sewing machine.
Brick walls are an interesting reference to the style of a country cottage – if you don't have such a flat, you can lay tiles imitating bricks – white or in red colour. What about the floor? Wooden planks with visible imperfections on the surface would be ideal. Or stone tiles (or tiles imitating stone), on which you can lay soft carpets (e.g. eco-leather or fake fur). Light fixtures in such interiors should be made of metal – forged chandeliers or hanging lamps resembling birdcages, wall lamps with small textile shades, standing lamps, which will create a pleasant mood in the evening. And don't forget candles – on large wooden or metal candle holders.
DID YOU KNOW: Wooden beams under the ceiling, characteristic for a country cottage, can be installed even in a flat in a block of flats (provided that the interior has a considerable area and the room height is at least 2,8 m). There are so-called rustic beams available on the market – they are deceptively similar to wooden ones although they are made of plastic.
How to arrange a kitchen in a rustic style
A kitchen should be the heart of every home – in a house decorated in a rustic style this heart seems to beat even stronger. Furniture should be the basis here – if not entirely made of wood then at least with wooden fronts. Add a colour-coordinated stone or wood worktop, and higher up, wall units in the form of display cabinets. If there is enough space, you can make a display with dishes you use most often – beautifully decorated ceramics will look good on open shelves (a few plates can be placed vertically). Cups hang on metal hooks on the wall below these shelves.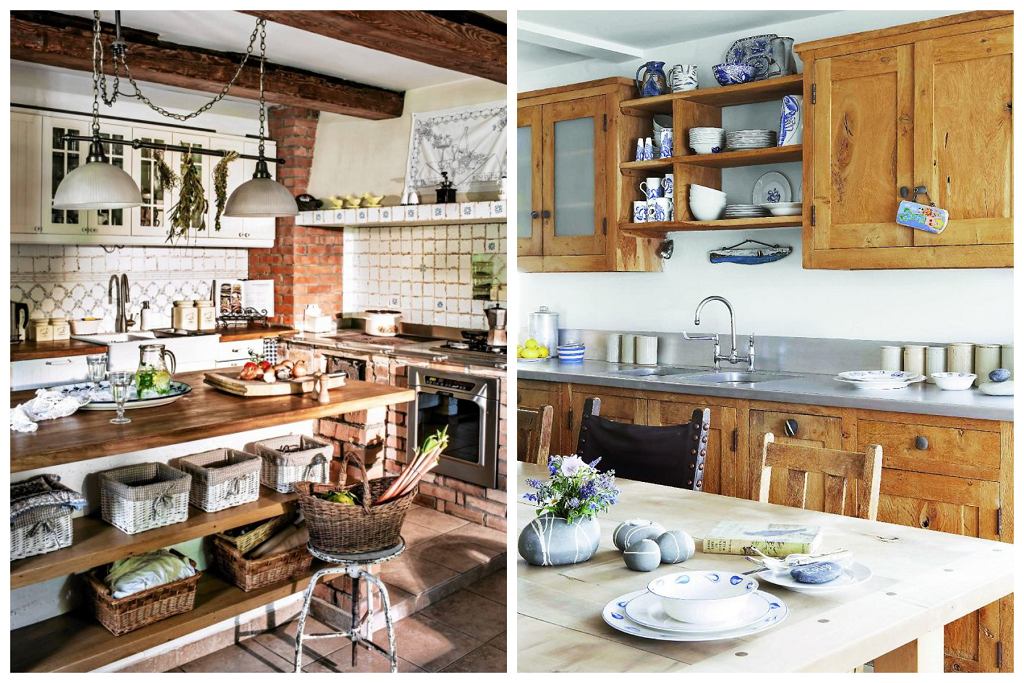 A rustic style originating from the provinces means references to nature – also in the form of herbs. You can keep them alive in pots (put them on the windowsill or in some other sunny place) or dry them in bunches hung over the kitchen island (away from the cooking fumes). If you don't have room for an island, get a table and chairs (or an extended worktop where you can sit) – spending a lot of time in the kitchen it's good to be able to sit down.
Store spices and various kitchen trinkets in woven baskets. Cast iron pots and copper pans will further emphasise the style of the arrangement.
How to arrange a rustic dining room
The place to eat is of course wood, which in the rustic style is used in all cases. It can even be a small table, but the ideal solution would be a bench and benches lined with faux fur or soft, flat cushions for comfort. Add a linen tablecloth for everyday use and an extra decoration for holidays in the form of a crochet doily (you can combine one with the other). Flower-patterned earthenware dishes, a bouquet of wildflowers, a bowl of fresh fruit, which can also be used as a decoration – and the dining room arrangement is complete. The chairs do not have to be the same – each can be different as if we wanted to create a composition from furniture inherited from different ancestors.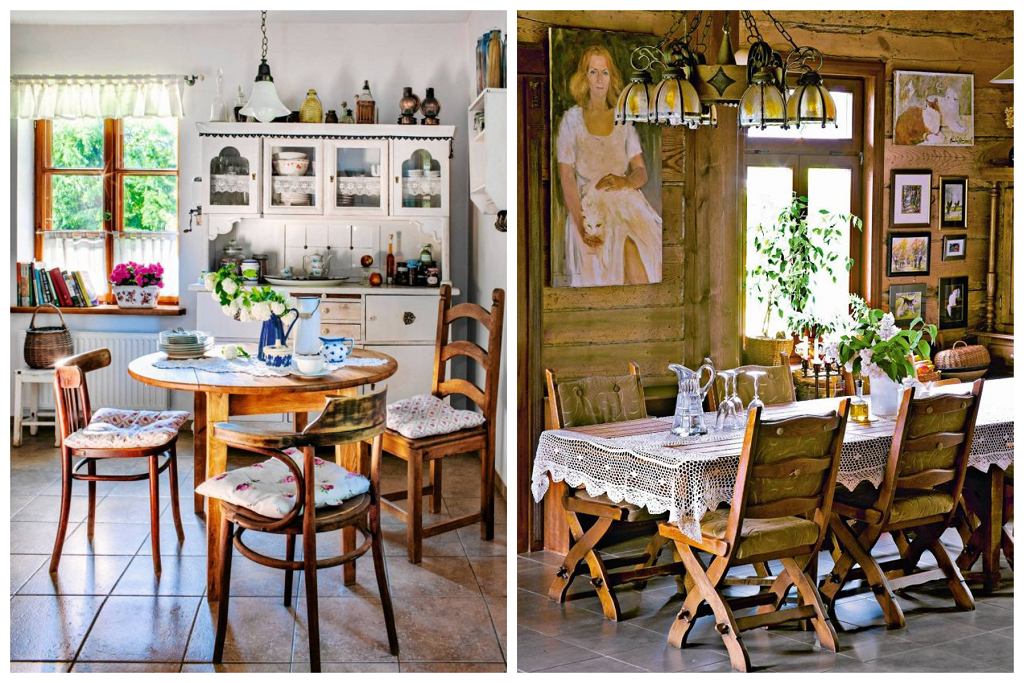 How to arrange a bedroom in a rustic style
Warm and cosy – but in what way? The wood itself makes the interior more "homey" and comfortable, but it is the textiles that will add the expected character to the bedroom. Don't limit yourself to the number of cushions – the more of them, the more comfortable they'll be. As well as bed linen, make sure you have some soft blankets to keep you warm on cold nights.
In the morning it's nice to put your feet up on a fluffy rug – put one on each side of the bed (you don't need a big rug in your bedroom). If you use blinds to cover your windows at night, decorate them anyway with heavily creased curtains in neutral colours – a cosy interior can't do without them. Place bedside lamps with linen lampshades on the bedside tables, which can even be simple wooden stools. Keep extra blankets or cushions in a large basket in the corner of the room – or in a wooden chest.
On the wall above the bed, hang a picture – but in a traditional form, rather than the animal motif graphic art that has been popular for several seasons. Instead of a made-to-measure wardrobe, which we usually have in our bedrooms, look for an old piece of furniture in shops or at antique fairs. Or maybe someone from the family has such a wardrobe to give away?
How to decorate a rustic bathroom
A rustic bathroom is a topic that should be treated quite loosely because a toilet in the form of that time has no raison d'être today. The following will help to maintain the rustic character: stone floor, free-standing bathtub (ideal would be a metal one), a wooden cabinet for towels and accessories – baskets for trinkets, wrought-iron lighting fixtures (paraffin lamp by the mirror?). The washbasin should resemble a bowl – DIY enthusiasts can even try to adapt a real metal bowl as a washbasin.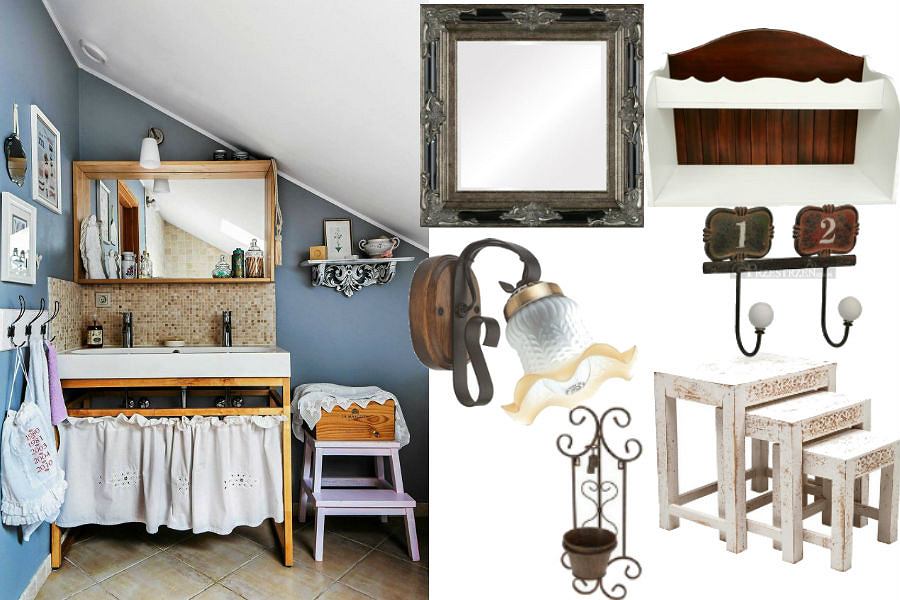 Also, try to find space for decorative textiles – the cupboard under the sink can have embroidered curtains instead of fronts, the glass in the front door can be covered with a wrinkled fabric on top and bottom, and you can put lace curtains on the window (apart from a Roman blind).