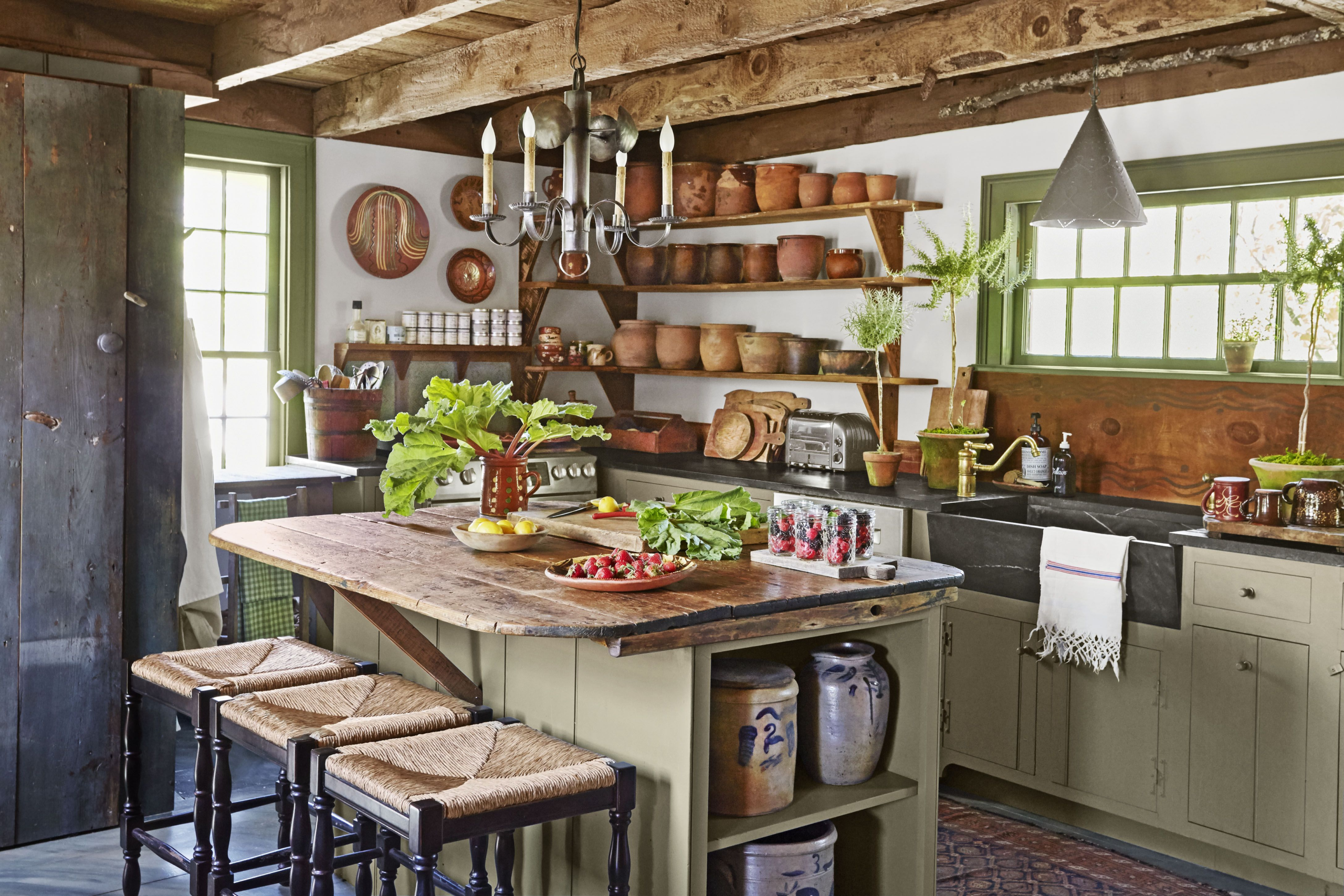 Homely, warm, cosy, smelling of home-made cakes, garlic braids and bouquets of dried herbs. This is what a rustic kitchen is like. Lots of wood, bright, friendly colours, natural materials and objects with a soul. Such an interior is ideal for those who dream of a traditional, friendly décor that brings back memories of charming country cottages. If you, too, are a fan of similar aesthetics, make sure to read this inspirational article!
1. Rustic kitchen – which furniture to choose?
Wooden furniture plays an important role in a rustic kitchen. It is worth remembering that they should be as unpretentious as possible, without elaborate, decorative elements. However, iron fittings and folk motifs are acceptable, e.g. Lusatian, Kashubian or Highlander. If you choose furniture in natural wood colour, try that its surface is raw, full of picturesque cracks, rings and knots. It is best when it is light – then it looks the most homely. However, staining the furniture mahogany, walnut or rosewood is acceptable.
Tops of kitchen cabinets? It's up to you – they can be wooden or stone. Apart from furniture, other kitchen finishes are also very important, such as door and window frames, as well as an absolute rustic must have – decorative ceiling beams. Stylized additions will also be welcome – a charming hood decorated with garlic braids, an antique cast-iron stove or an old tiled kitchen adapted, for example, into a comfortable worktop. It's worth mentioning that a rustic kitchen with an island is very popular. However, such a solution is recommended only in spacious interiors.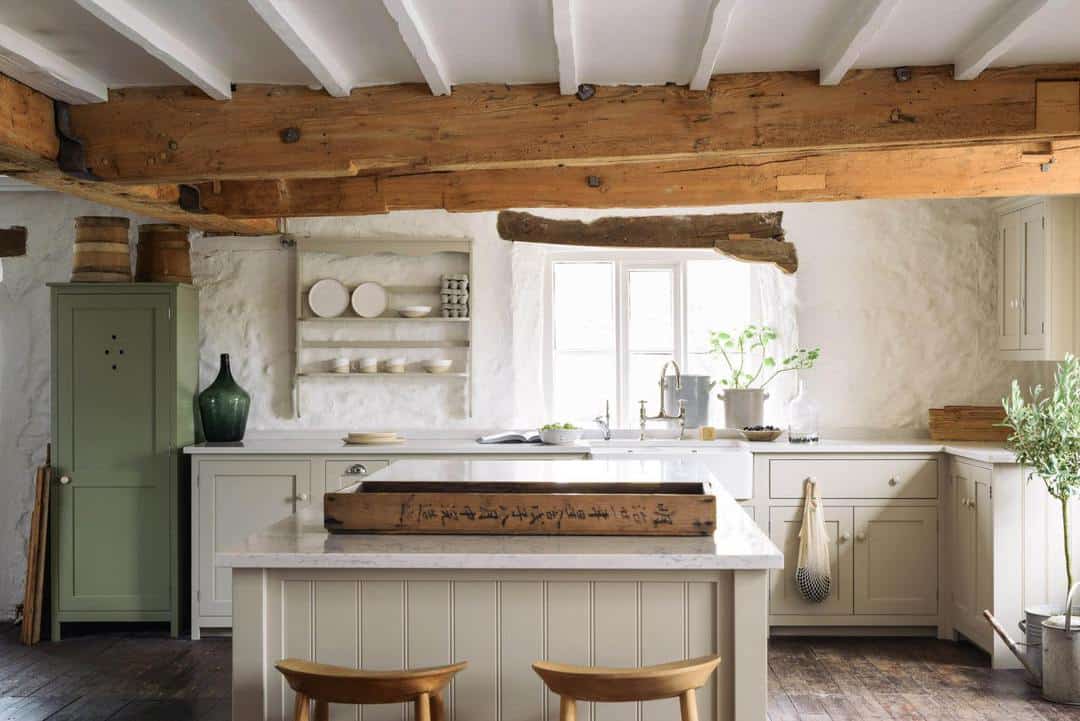 2. Rustic white kitchen
Can a rustic kitchen be white? Of course! But the rules are similar to those for kitchens with a natural, wooden look – the less decorative motifs on the cabinet fronts, the better! If you want white rustic furniture, opt for wooden worktops to balance out the colour scheme of the interior. Copper, tin and cast iron accessories such as pans, sagans and lamps will also work fantastically in a white rustic kitchen. It is worth mentioning that a perfect accent in a kitchen of this type of aesthetics will be an age-old, folk cupboard with glass doors. In order to spice up the styling, on its small windows, you can stick openwork wallpaper imitating lace.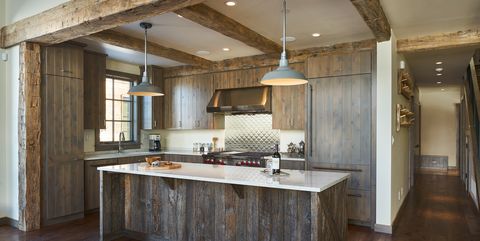 3. Colourful rustic kitchen
Wood and natural materials should rule in a rustic kitchen, but if you love colour, there's nothing stopping you from bringing it into the kitchen! It's worth remembering that rustic style means both white and earth colours, among others. Therefore, oranges, yellows, subtle browns and beiges look great on walls. Apart from these, a strong colour palette is also common, with intense shades of green or strong blues leading the way. But there's more to colourful walls! A wooden table, for example, painted blue and deliberately aged through decorative scuffing, would fit in well in a rustic kitchen. Poppy-coloured curtains, a bright yellow tablecloth or a bouquet of multi-coloured wildflowers will also be eye-catching.
4. Rustic kitchen with black tiles
It's commonly said that milled, white tiles with a shiny texture are best for a rustic kitchen – tiles that are reminiscent of the design used to finish old tiled cookers. But why not go a little wilder and propose a different, more decisive colour variant? As it turns out, a rustic kitchen will also feel good in this version! So if you're a fan of contrasting combinations, you might be tempted to invite tiles in an intense ink colour for a rustic kitchen. Rectangular glossy elements can be laid, for example, between two rows of kitchen cabinets. Other black accents, such as crockery, decorations or even cabinet hardware, will also fit in perfectly.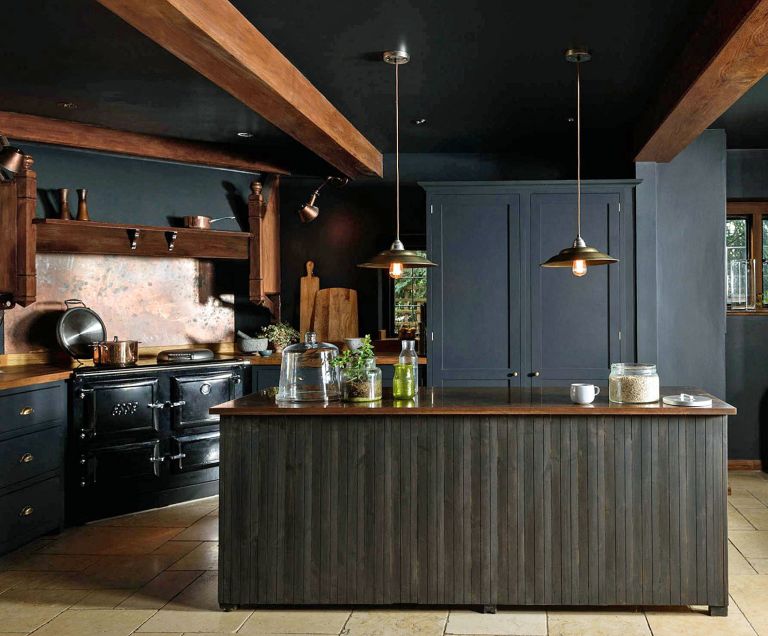 5. Rustic kitchen – what materials?
In a rustic kitchen, not only wood but also other materials characteristic for an idyllic convention will work fantastically. These may include wicker, rattan or clay. Besides, it's worth betting on stylized fittings – brass taps, porcelain sinks decorated with folk patterns or those imitating stone bowls of irregular shape. Apart from that, a sea of soft fabrics should be invited to the arrangement – runners finished with colourful appliqués, woollen cushions, lace bedspreads or linen curtains. Handicraft enthusiasts may be tempted to create a crocheted tablecloth, a set of table napkins or embroider a local pattern on a pillowcase. At the same time, remember that materials should be as natural as possible! There is no place for artificial fibres such as polypropylene or olefin.
6. Rustic kitchen – what finishes?
Apart from wooden finishes, materials such as brick and stone are very common in rustic kitchens. Therefore, stone fireplaces or brick pillars are not surprising here. The latter can be a delight to the eye with its original, red tones or bleached, subtle surface. In addition, it is worth taking care of the rustic aesthetics of the walls, which are often deliberately rubbed, uneven and rough. A similar effect can be achieved by applying plaster to the walls in a sweeping, semicircular motion. The kitchen floor, on the other hand, should be decorated with earth-coloured tiles or special terracotta tiles, imitating stone slabs.
7. Rustic accessories
Characteristic accessories in the rustic style usually refer to the old, idyllic lifestyle remembered from the Polish villages. Therefore, they can be old irons with soul, wooden spindles, cast-iron sagans, stoneware barrels, tin milk cans, old butter churns or charming enamelled dishes. Similar accents can be displayed on windowsills, kitchen shelves or countertops. On the kitchen wall, an old cuckoo clock or an oil painting referring to the idyll trend will present itself beautifully. Don't forget about herbs too! Put bouquets of dried plants on the eaves and display live, robust specimens such as lovage, mint or marjoram in decorative porcelain pots. To give your kitchen a friendly warmth after dark, you can opt for a flickering candlelight. Encapsulate the dancing flames in centuries-old candlesticks or glass jars. Atmospheric paraffin lamps also work well here.
Did you know that the rustic furniture style originated in… a garden chair? The model called "Adirondack" was designed by Thomas Lee in 1903. The man, following simple forms and natural materials, created a piece of furniture consisting of eleven elements from a single board. The chair was to be used for relaxation in his summer cottage on the slopes of the American Adirondack Mountains. As you can see, the rustic trend quickly made its way into European homes. And so, in a slightly modified, native version, we can enjoy it today as well!